3D Visualization and Augmented Reality for Surgery
Mar 22, 2022 Read Time: 3 min
by Novarad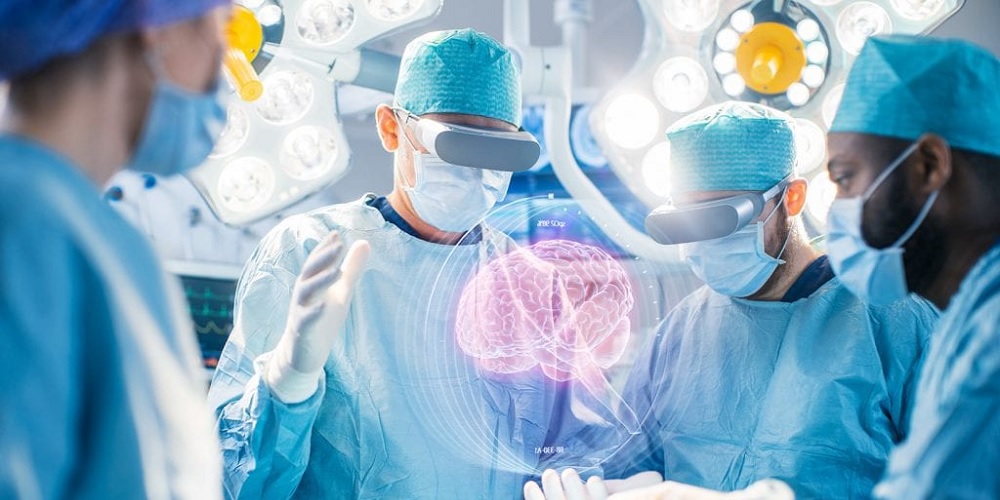 The healthcare industry has undergone a massive transformation with the advancement of technology. The imaging sector in particular has experienced remarkable changes at different times: first, X-ray images, then digital acquisition with CT and MRI cross-sectional studies, then advanced processing in 3D, and so on. This shift impacted greatly by technology is beginning to rub off on the surgery world with the introduction of 3D visualization and augmented reality (AR) for surgery.
AR uses technology to superimpose digital images in the real world. In the case of surgery, overlaying the diagnostic images directly on the patient acts as a sort of "GPS," which improves the surgeons' hand-to-eye coordination, helping them be more precise and accurate during surgery.
Surgeons' views about 3D visualization and augmented reality for surgery
With the AR headset, surgeons no longer need to look at multiple screens and take their eyes off the patient. All the information that they need is present in the superimposed diagnostic images, giving them a clear vision of operating. One of the vital benefits of augmented reality is that it uses radiological data to simulate the 3D reconstruction of organs, providing a more true-to-life view of a patient's appearance and anatomy when used as a diagnostic tool.
A Research Fellow for Robotic Surgery in the Department of Surgery and Cancer at Imperial College London, Dr. Philip Pratt, says, "This technology allows us to experience the data that we have collected from patients before their operation in the most realistic and natural way. You look at the leg and essentially see inside of it."
After performing the world's first AR-guided surgery at the Sant'Orsola hospital in Bologna, lead surgeon Giovanni Badiali said, "We are on the edge of a medical revolution in terms of surgical navigation. . . . We could be working seamlessly in the future. For surgeries, this means a great gain of time and a reduction of mental work to do the connections between the virtual and the real. All the information arrives in real-time. Time is the greatest beneficiary of this technology."
Benefits of 3D visualization and augmented reality for surgery
Precision is a critical element in AR because it guides surgeons to holographically visualize patient imaging, giving room for more skillful and expert precision and enabling decision-making in real time. Surgeons are privy to the whole immersive view of imaging using 3D visualization, which helps them do their jobs safely and accurately.
Another advantage of 3D visualization and AR for surgery is that it helps surgeons navigate the surgical site knowledgeably. They can successfully maneuver the surgical pathway using advanced real-time image guidance that enables clear-cut device placement in open and minimally invasive procedures.
The sustainability of technology in any industry is achieved by transferring information and knowledge to others. One exciting way to groom students in 3D visualization and AR for surgery is practical education.
OpenSight and VisAR
Keying into this ground-breaking technology, Novarad has launched OpenSight and VisAR for surgeons in order to eliminate distractions and increase accuracy and so they can perform less-invasive surgeries.
OpenSight
OpenSight is an FDA-cleared augmented reality surgical planning system that increases surgical accuracy and confidence. It helps surgeons visualize internal anatomy from cross-sectional imaging superimposed on a patient before surgery.
It also enables the surgeons to mark the exact location for placing any device, such as endoscope, needle, or pedicle screw, or extracting a foreign body. Its key features include:
First AR surgical system using Microsoft HoloLens to receive FDA clearance
Advanced 2D/3D/4D rendering without tethering
AI-enhanced advanced 3D image segmentation
Patented or patent-pending innovations
Optical Tag Registration
Surface Shell Registration
Virtual tools for incision, markers, needles, trocars, and more
Virtual Annotations Patented optical tag registration system
Anatomic labeling, pathologic markup
Dynamic virtual targeting system for tracking lesions and trocar placement
Enterprise Imaging, HIPAA logging, LDAP logins, data encryption, auto-routing
VisAR
Novarad's VisAR technology is for use during a surgery. It takes CT, MRI, PET, or other cross-sectional scans, renders them in real time, and showcases them with a heads-up display using an AR goggle system from Microsoft. Its other features include:
Advanced 2D, 3D, and 4D real-time rendering without tethering
Precise optical registration
AI-enhanced segmentation
Virtual tools and annotations
Precise guidance system for accurate instrument placement during surgery
Dynamic tracking of instruments and lesions during surgery
Continuous registration
Orthogonal views
Tag learning and transfer
Conclusion
3D visualization and AR for surgery are among the best things to happen in the surgical world. Novarad's Open Sight enhances patient confidence in their surgeons once they understand the procedure, especially when viewing the annotated holographic images. This improves positive patient experience and increases the possibility of a better outcome. Novarad also equips members of clinical teams with multiple headsets to help them improve training and teach students with confidence, providing them with first-hand experience with this technology.
Here at Novarad, we believe that the key to a successful imaging center is to work smarter, not harder, to deliver the type of care and outcomes that patients desire.

To see how we can help improve your workflows, feel free to reach out to our workflow specialists today!
Sign up for our newsletter