Choosing the Best Enterprise Imaging Platform for Your Needs
Jul 5, 2022 Read Time: 3 min
by Novarad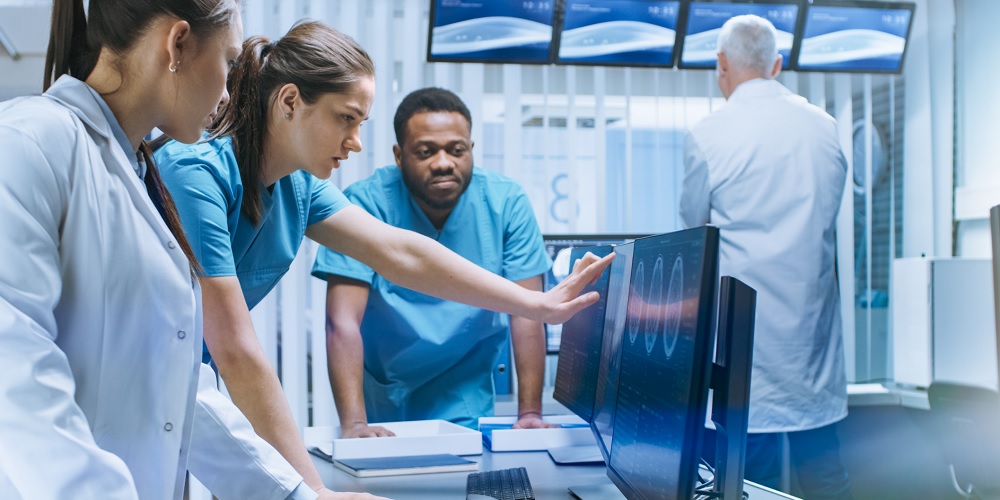 Medical imaging is critical in making informed clinical decisions. However, some medical imaging solutions can come in numerous native file types and DICOM formats, increasing access and management difficulties. Imaging content can be hidden in specialized department imaging systems, multiple PACS, CDs/DVDs, and other legacy archives.
With disconnected archives, imaging records are unavailable from your EMRs and for clinical decision-making. This introduces significant bottlenecks and fragmented medicine to your facility, affecting the quality of service that you can deliver.
However, you can adopt an enterprise imaging platform and sidestep the challenges caused by disconnected archives. Your facility can enjoy the benefits of a single comprehensive patient imaging archive across the entire facility. Having one archive and a single login (versus multiple for various systems) speeds up image acquisition, retrieval, and sharing and optimizes your facility's efficiency and performance.
An enterprise imaging platform can also enable cross-specialty collaboration across departments, healthcare facilities, and locations. This helps improve treatment outcomes among your patients, with more connected medicine that focuses on the whole patient instead of a set of symptoms and tests.
All that said, image center managers, IT directors, and chief radiologists should consider a set of factors before choosing the most suitable enterprise imaging platform. These include Health Level Seven (HL7) Interoperability, value versus costs of the technology, compliance, etc.
So, how do these factors determine the suitability of an enterprise imaging platform?
1. HL7 Interoperability
HL7 is a set of internationally recognized standards that provide guidance in the transfer and sharing of records between care providers. Created by Health Level Seven International, HL7 provides a common language for clinical data content and structures (e.g., diagnoses, procedures, etc.). This enables the exchange of data across EHRs without the risk of misinterpretation or ambiguity.
If an enterprise imaging platform adheres to HL7 interoperability standards—like Fast Healthcare Interoperability Resources and HLv2 messaging formats—it can maximize the value derived from EHRs. With increased visibility over data generated elsewhere, thanks to HL7 guidelines, data can be easily integrated across healthcare systems and viewed in a comprehensive manner. This helps reduce the administrative burden while improving the quality of care.
Furthermore, an enterprise imaging platform that complies with HL7 standards can help reduce the duplication of work and enhance your clinical efficiency. Many patients have numerous touchpoints with healthcare practitioners, and it can be inefficient and expensive to carry copies of their entire health record from one practitioner to another. A clinic that adopts an imaging solution compliant with HL7 standards enables the efficient transfer of clinical records.
Easy access to patient records can also help your staff provide quality care to their patients. This translates to lower referral leakages and maximizes profitability in your enterprise.
By leveraging HL7 standards, the Ncompass enterprise imaging platform presents a complete view of a patient. Through the storyboard format in the Universal Viewer, your staff can view patient images and reports, graphical documents, labs, cultures, and educational videos from any department within your healthcare facility. With improved access, your staff can access changes made over time, easily engage with patients, and collaborate with colleagues. This ensures fast and more accurate diagnoses, helping improve treatment plans and leading to better patient outcomes.
2. Value versus Cost
With the increased pressure to cut healthcare costs, image center managers, IT directors, and chief radiologists are experiencing a dilemma when choosing enterprise radiology platforms: value-packed but premium solutions versus cheap but low-quality platforms.
While there's certainly a need to cut costs in radiology practices, there are numerous benefits that radiology practices can get from premium enterprise radiology platforms. In time, these can help your facility improve clinical decision-making, streamline current workflows, and enhance patient experiences in your organization. These benefits can then help improve your facility's efficiency, reduce client turnover, and prevent stress and burnout among your staff.
A premium but value-packed solution is Nova RIS. Investing in the industry-leading solution can help streamline your facility's workflows, strengthen relationships with key stakeholders, integrate scheduling capabilities, and enhance integration with healthcare PACS. These can help improve patient safety, staff productivity, and workflows.
Conversely, working with cheap enterprise imaging platforms can introduce many challenges, such as being unable to streamline radiology workflows. This is how your enterprise scales its operations, and thus, it can adversely affect your patient experience. Such challenges can also introduce short- and long-term effects in your radiology practice, adversely impacting your imaging facility's competitive edge.
3. Compliance
With the current developments in the medical imaging space, imaging leaders must stay informed about US Preventive Services Task Force guidelines, Joint Commission updates, ICD-10 codes, kickback laws, the Health Information Privacy and Accountability Act (HIPAA), and many more. This can be challenging.
Knowing that compliance can be your radiology organization's health insurance policy and creating and maintaining effective compliance programs can help your organization identify and address the most impactful risks. To create a comprehensive compliance strategy, you need an enterprise imaging platform that has inbuilt compliance consoles. These can only be availed by premium enterprise imaging platforms.
With a suitable platform that incorporates compliance systems, your staff can access and work with patient data without violating key guidelines and standards. Premium enterprise imaging platform NovaPACS integrates built-in HIPAA logs within the admin console, helping your facility improve compliance. By leveraging Novarad's strict compliance framework, the solution enhances your facility's ability to adhere to HIPAA, DICOM, and ICD-10 standards.
Bottom Line
Choosing an enterprise radiology platform can be a challenging process. But healthcare systems and chief radiologists can overcome the difficulties of selecting a suitable enterprise imaging platform by knowing key factors to consider. A few of these include HL7 Interoperability, value versus costs of the technology, and compliance.
Here at Novarad, we believe that the key to a successful imaging center is to work smarter, not harder, to deliver the type of care and outcomes that patients desire.

To see how we can help improve your workflows, feel free to reach out to our workflow specialists today!
Sign up for our newsletter