How to Improve Healthcare Workflow Processes with Information Technology
Apr 14, 2022 Read Time: 3 min
by Novarad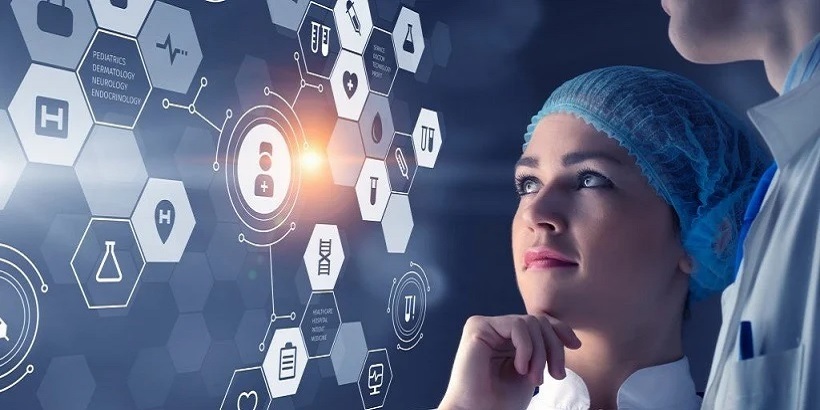 Information technology (IT) has often been touted as an essential component to improving the quality of care and patient safety. While technologies like electronic health records and picture archiving and communication systems (PACS) are seen as solutions, the failure to design these systems to fit the specific needs of a particular practice or to meet the requirements of the development of standardized reporting and growing volumes of work results in mixed outcomes.
With healthcare workflow processes becoming more complex by the day and solutions yielding mixed returns, more heads of technology are struggling to come up with solutions to improve those processes with IT.
Three factors influencing healthcare workflow processes
Modern healthcare facilities need technology to operate smoothly. Several factors influence how hospital heads of radiology can improve their healthcare workflow processes with IT.
1. Accessibility to patient records
With information stored in disparate information silos, heads of radiology have to consider the best solutions to invest in to improve healthcare workflow processes.
Having the right PACS can simplify the process of managing medical images, which can help boost your facility's efficiency and workflow.
That said, working with a free or cheap PACS solution may not address your access issues. It may lack key features geared toward improving access, boosting efficiency, and improving workflow. Furthermore, cheap or free PACS may be designed without access-boosting features like effective security, HIPAA compliance, HTML5 viewers, and HL7 interfaces. Over time, this may introduce challenges that adversely affect your facility's workflow.
2. Information transfer
Today's healthcare organizations depend on the availability of large amounts of high-quality data. With different professionals and information sources being involved in patient care, the process of transferring this data can be complicated. The result is that many errors may occur at transition points—like dual papers, phones, and electronic orders—causing the loss or degradation of information. A patient's medical record can be scattered across multiple hospital networks that don't communicate with each other.
Not having an effective PACS solution—often caused by choosing free or cheap options—limits your facility's ability to improve information transfer. As a result, your facility adopts brutally slow healthcare workflow processes due to non-formalized approaches to information sharing. Poorly designed PACS solutions can also degrade patient information, in that patient records may be lost when staff members leave your facility. This introduces challenges in the use of patient information, increasing inefficiencies in your healthcare workflow processes.
3. Diagnosis
With the availability of patient records and well-trained physicians, your healthcare workflow processes can benefit significantly. Physicians will spend valuable clinical time reviewing patients and treatment histories and making appropriate diagnoses, rather than spending time searching for patient records and images.
IT has the power to promote valuable insights and provide decision support, speeding up diagnostic processes and contributing to improved healthcare workflow processes. However, some facilities opt for free or cheap solutions when trying to improve their workflow. This results in ineffective and slow diagnostics, adversely affecting your facility's healthcare workflow processes.
How does Novarad make work easier in improving healthcare workflow processes?
Investing in Novarad's PACs solution (NovaPACS) can be a gamechanger for your facility's healthcare workflow process. Here's how NovaPACS can simplify your operations, unlocking significant benefits.
1. Leverages IT to improve collaboration
NovaPACS enables your facility to leverage different collaboration features integrated within the solution. In addition to helping physicians read patient records across a range of applications with unmatched speeds, the solution also enables your facility to use peer reviews and preliminary workflow capabilities. NovaPACs can even help launch any workflow-enhancing third-party software that your facility may be using.
With the increased collaboration supported by NovaPACS, your facility can easily incorporate multispeciality views in imaging and diagnosis reports, improving the outcomes of selected treatment plans.
Over the long run, enhanced collaboration and accurate diagnosis lead to optimized healthcare workflow outcomes and the accompanying benefits for your organization.
2. Improve information sharing with customized viewers
Sharing patient data with physicians within and outside a healthcare facility is vital for quality care and improved healthcare workflow. Efficient information sharing eliminates delays in studying a patient's medical history, assessing their current condition, and determining a suitable treatment plan.
Investing in NovaPACS enables your facility to take advantage of Novarad's HTML5-enabled viewer and a web-based diagnostic viewer. While maintaining DICOM standards and being capable of linking with any PACS solution, NovaPACS increases the ease with which you can share vital patient information. This is done without compromising the safety of patients' records.
Physicians can also use the customized viewers to access patient records—images and reports—via any tablet, telephone, or web browser. This is made possible by novel technologies like Novarad's full diagnostic viewer, mobile RAD iPad application, and the lite viewer.
Leveraging these customized viewing tools, your facility saves time and improves workflows by reducing the reliance on overly complex information-viewing tools. In turn, this helps hospital heads of technology solve the challenge of how to improve their workflow with IT. With these solutions, your facility can improve its efficiency and healthcare workflow processes.
Here at Novarad, we believe that the key to a successful imaging center is to work smarter, not harder, to deliver the type of care and outcomes that patients desire.

To see how we can help improve your workflows, feel free to reach out to our workflow specialists today!
Sign up for our newsletter