Enterprise Imaging Software That Radiology Can Depend On
May 10, 2022 Read Time: 4 min
by Novarad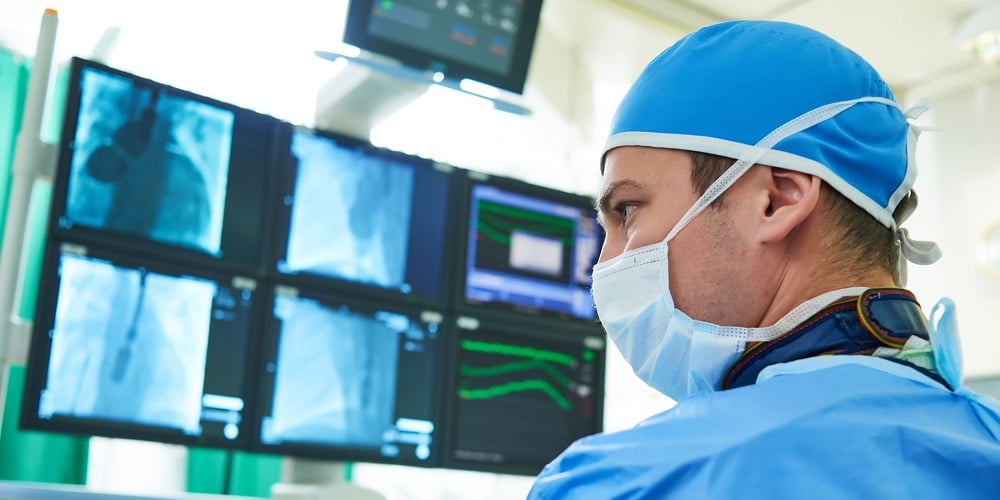 Transitioning from traditional picture archiving and communications systems (PACS) and cardiology picture archiving and communication systems (CPACS) to enterprise imaging systems has been a big trend in healthcare information technology. The transition has transformed how clinicians access patient images and records across specialties.
For enterprise imaging software, the basic idea is to amalgamate patient data (including images, reports, and waveforms) into a single storage and enhance access via different devices.
Leveraging cloud-based and vendor-neutral archives, enterprise imaging software enables healthcare facilities to eliminate medical image silos, improving access and outcomes.
What imaging challenges do radiologists experience?
1. Security and HIPAA compliance
The Health Insurance Portability and Accountability Act of 1996 (HIPAA) was established to ensure the protection of individual health information while facilitating the flow of information that's needed to provide quality healthcare. Different covered entities—healthcare providers, healthcare plans, business associates, and healthcare clearinghouses—must adhere to HIPAA standards to protect the public's health and well-being.
For radiology departments, the cost of compliance with HIPAA can be inhibiting. Specifically, radiology departments/practices may experience challenges implementing costly specifications associated with the standards. Several of these specifications relate to staff training, security risk analyses, internal audits, information technology security, and policy development. That said, non-compliance can result in fines and penalties, productivity losses, business disruption, and legal settlement costs.
Combined, these challenges may affect your facility's ability to operate at optimal levels.
2. Radiology workflow support
Access to electronic health records (EHR) is key to better care and decreased healthcare costs at your facility. However, poor design of EHR systems and improper use of such systems can lead to errors that affect the integrity of such information. The occurrence of unintended consequences may also lead to fraud in your radiology facility, increasing the possibility of serious legal implications.
For radiology departments, the lack of effective EHR integration also hinders the ability of physicians to use image viewers. A key part of a good integration is to have a patient-centric image viewer in the EMR so all images go to the viewer instead of different fields, even notes fields. Without effectively developed enterprise imaging systems, your team experiences challenges in accessing vital images, affecting patient care and increasing dissatisfaction among staff members.
Eventually, the factors affecting radiology workflow affect the effectiveness of your radiology department, limiting the facility's ability to compete with peers in the industry.
3. Interoperability with existing infrastructure
Lack of interoperability between enterprise imaging solutions can slow down response rates in radiology departments. Interoperability refers to the ability of different information systems and devices to connect and communicate in a coordinated way, enabling the seamless portability of information across health facilities.
Without interoperability, access to healthcare-related data is limited. For a radiology department, this lack affects the continuity of care. It slows down your department's ability to determine an appropriate diagnosis because they don't have access to a patient's medical history. Also, without interoperability, clinicians are not getting the full view of a medical record, which can be scattered across facilities. This is a root cause of fragmented care and leans toward deficient diagnosing.
4. FDA accreditation for imaging software
The FDA applies regulatory oversight over medical devices that can pose risks to a patient's safety if the systems were to fail and not function as initially intended. This is vital in ensuring that radiology departments work with enterprise imaging systems that meet preset FDA standards.
Adopting imaging software that is not FDA accredited may introduce challenges that accompany business disruptions, internal audits, and risk assessment. Thus, it's paramount for radiology facilities to employ systems that are FDA accredited to avoid costs and processes that may affect your facility's effectiveness.
5. Training and adoption
The adoption of new enterprise imaging solutions introduces numerous benefits to a radiology practice. However, different imaging solutions come in different forms, and they may have varying needs in terms of training and adoption-related preparations.
To clarify, imaging systems that require extensive training and numerous pre-installation procedures may affect the effectiveness of staff members in an adopting facility. Radiologists and other physicians have to spend more time learning new concepts and workflow processes, thus limiting the time committed to clinical work.
How does Novarad's enterprise imaging software solve radiology problems?
Given the challenges facing radiology departments, here are several solutions that Novarad's enterprise imaging solution may offer your facility.
1. Improve your facility's HIPAA compliance and security
Adopting Novarad's enterprise imaging system will enable your radiology facility to leverage the corporation's high-quality products that help you comply with HIPAA requirements by providing the tools and reports that you need. By adhering to these high standards, your radiology department sidesteps possible challenges associated with non-compliance. Some of these challenges relate to the disruption of operations, civil proceedings, and expensive audits.
With the reduction in compliance-related challenges, your heads of radiology can focus on improving efficiencies by streamlining other activities in your radiology facility. Eventually, this translates to better patient outcomes and improved profitability.
2. Enhanced interoperability with existing infrastructure
Adopting a highly interoperable enterprise imaging technology can introduce several benefits to your radiology facility. Top among these benefits are safeguarding patient records, improving your staff's productivity, and improving your patients' experiences.
Thanks to the exceptional design of the Ncompass solution, your radiology facility leverages the system's zero-footprint viewer to access patient records anywhere and at any time. With this universal viewer, your facility can image-enable EMRs, providing unhindered access to important patient records.
The use of a universal viewer is a fairly new concept, and how, where, and when it can be used is still not completely understood. Basically, we need a better way to visually bridge gaps in medicine, to work remotely yet connect better. We need a place to bring together all episodes of care across a patient's diagnostic and treatment journey, especially for acute patients with chronic and complex conditions. The universal viewer presents a patient-centered view across hospital networks and ancillary facilities, enabling collaboration inside and outside the hospital.
It is estimated that one in every ten patients is harmed when admitted to the hospital. A universal viewer is the missing piece as a virtual collaboration space to close gaps. This space enables providers to see what's missing by bringing together important patient data, images, and multimedia in a way that improves:
Overall patient care
Doctor-patient engagement
Multi-specialty and cross-departmental collaboration
The universal viewer improves treatment outcomes because accurate diagnoses can be made and appropriate treatment plans implemented.
Furthermore, Ncompass's high interoperability with other systems enables your facility to maximize benefits drawn from easy and effective image sharing, life cycle management, business continuity, and health information exchange connectivity.
3. FDA-approved technology
Adopting an enterprise imaging solution that's FDA approved is crucial to the effectiveness of your radiology department.
With an FDA-accredited enterprise imaging software like Ncompass, your facility prevents the introduction of risks to public health. Adopting Novarad's FDA-accredited imaging solution ensures that your organization doesn't run device functions that contravene healthcare guidelines. This helps your facility focus on improving efficiency and the quality of service delivered to who matters the most: the patient.
Here at Novarad, we believe that the key to a successful imaging center is to work smarter, not harder, to deliver the type of care and outcomes that patients desire.
To see how we can help improve your workflows, feel free to reach out to our workflow specialists today!
Sign up for our newsletter