Expert Insights on Improving Communication in Diagnostic Radiology
Jul 26, 2022 Read Time: 3 min
by Novarad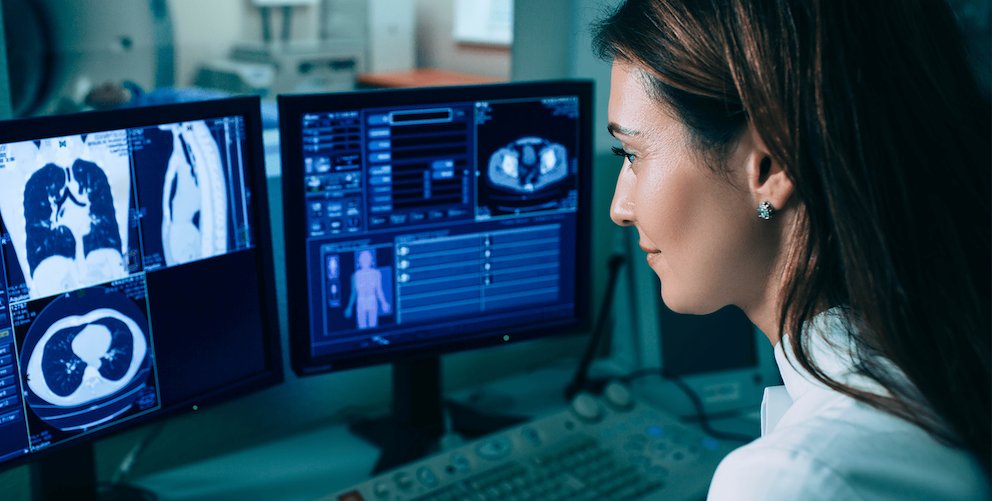 Communication is paramount in radiology. Ineffective communication can harm an establishment's performance, affect productivity and staff morale, topple patient outcomes, diminish revenue, and damage relationships with referring physicians. In radiology, information technology has proven to be a game-changer for the industry by getting life-changing data across various platforms within minutes.
Communication and Department Performance
Verbal communication is part of the workflow process and is equally vital as interactions with software. However, without the proper information technology, oral and written methods of data sharing have proven to be riddled with costly errors that weaken the overall performance of a radiology department. In addition, as patient volumes increase, workflow is directly impacted, and practical, fast communication cannot afford to take a backseat in a bustling imaging center.
Before newer technology, such as picture archiving and communication systems (PACS) and radiology information systems (RIS), there were long delays, and the entire process of capturing an image and getting it into the hands of the attending physician was flawed. Radiology departments had to constantly find solutions to their workflow, data sharing, and storage concerns. The emergence of radiology software that sped up communication and productivity and solved storage and retrieval issues with the click of a mouse was inevitable.
Communication and Staff
In 2017, a qualitative study among a group of radiographers showed that they believed that technology was a key component to their work, and without it, their jobs would be impossible. The study also revealed that technologists thought technology should be user friendly and easy to learn and operate and provide fast and efficient communication.
Other studies have shown that 23% of technologists felt that their work environment was inefficient and more of their tasks needed to be automated.
It is safe to state that when communication is deficient, staff burnout and errors rise drastically and productivity decreases.
Types of Communication Errors
A 2004 to 2014 study to analyze the impact of communication errors on customer satisfaction, workflow, and patient care revealed the types of communication mishaps in a select number of cases from a quality assurance database (the following data is simplified for this article and is not conclusive of the study results):
Ordering: 13.9%
Scheduling: 4.7%
Performance of examination: 30.0%
Study interpretation: 3.7%
Results communication: 47.6%
In addition, there were twenty-one minor impacts on patient care, thirty-four moderate impacts, and eighty-nine major ones in some instances studied.
Effective communication, indirect or direct, verbal or written, impacts patient outcomes and satisfaction.
The Effect of Information on Revenue
Gathering the wrong information or incomplete patient data is a type of miscommunication between individuals who receive data from other sources and then input that data into a billing system or by some manual means. Incorrect information about patients, such as diagnoses, clinic notes, and demographics, combined with wrong CPT codes, can cause reimbursement delays or claim denials. In addition, these blunders make a direct path back to the patient in pricey bills and shine a negative light on the radiology department.
The Impact of Information Technology
The superior communication aspects of IT are critical components in the success of imaging centers. The software can automate redundant tasks, reduce errors, provide suitable options to the end-user, improve reimbursement, and retain and hire highly skilled staff. In addition, specific radiology software systems are essential for improving communication in diagnostic radiology.
PACS stores short- and long-term images and enables quick data retrieval. It solves radiology storage issues for large amounts of data and all but banishes file rooms needed to store film. PACS captures images as soon as they're taken and makes them available for interpretation within minutes. NovaPACS offers all-in-one workstations for radiologists' reading across various applications with extraordinary speed, utilizing automated features such as auto-dictate start.
RIS can schedule patients and send text patient appointment reminders to patients and text, fax, or email results and reports to referring physicians. It also communicates with PACS and HIS (hospital information system) and EMRs (electronic medical records), ensuring that data sharing is accurate and fast. In addition, this system manages resources and provides billing and coding assistance. Nova RIS offers e-forms for online patients and provides alert mechanisms for contraindications, unscheduled procedures, insurance pre-authorization, and STAT studies. RIS increases revenue and fosters relationships with referring doctors.
A HIS manages all aspects of hospital operations and provides a common source of patient health information.
EMRs contain patients' medical history, diagnoses, medications, treatment plans, immunizations, allergies, radiology images, laboratory, and other test results. This system communicates life-saving information immediately to avoid adverse patient events, such as anaphylactic contrast dye reactions.
Improving Communication in Diagnostic Radiology
Closely monitor workflow and make adjustments.
Keep patients first.
Utilize up-to-date radiology software.
Incorporate analytics that provides information on areas in need of improvement.
Information technology should blend seamlessly into departments, provide 24/7 support, have a low learning curve for staff, and provide a pleasant and straightforward encounter for patients.
IT should never interfere with or compromise communication efforts.
Effective communication with software helps provide quality care. In addition, without systems that communicate data within minutes, medicine would lose the battle to save lives. Improving communication in diagnostic radiology is about working smarter, not harder, hence the reason for utilizing the best software systems that meet the needs of any imaging center.
Here at Novarad, we believe that the key to a successful imaging center is to work smarter, not harder, to deliver the type of care and outcomes that patients desire.

To see how we can help improve your workflows, feel free to reach out to our workflow specialists today!
Related Insights
Sign up for our newsletter