Improving Radiology Efficiency: Streamlining Your Workflows
Jun 7, 2022 Read Time: 3 min
by Novarad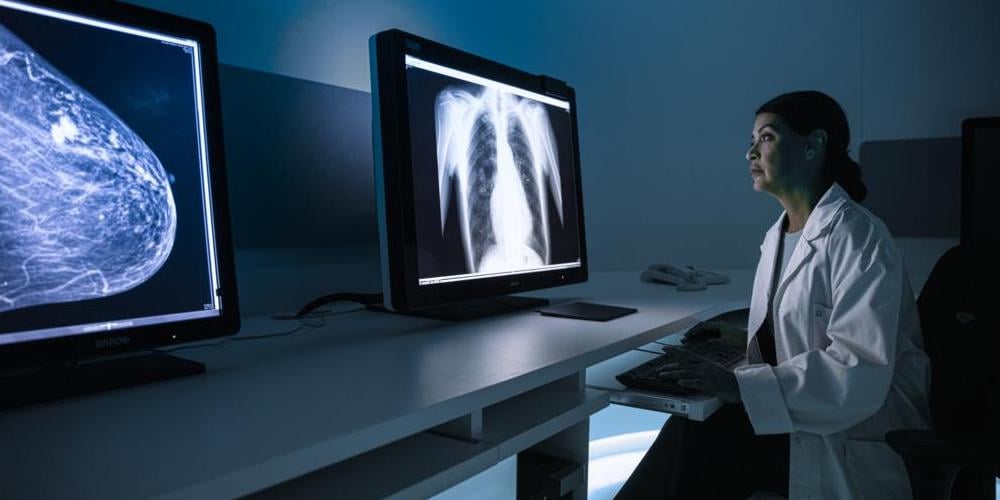 Many radiology departments and imaging centers are busy to the tune of hundreds of exams per day. Their combined efforts generate billions in yearly revenue. However, in a bustling department, checks and balances ensure harmonious proficiency between people and information technology. Therefore, improving radiology efficiency requires the constant monitoring and fine-tuning of software and workflow practices.
Improving radiology efficiency: Streamlining the process
In short, streamlining a process entails altering something to enhance and simplify efficiency. Operating an imaging center requires in-depth knowledge of the department's design, and accomplishing proficiency milestones means understanding the flow of work. It begins when a patient enters an imaging facility and engages with an employee, who then interacts with a software system.
The difficult challenge of improving workflow processes is that people and IT systems may need to integrate with informatics designed by different companies. All these technologies need to communicate with outside facilities and picture archiving communication systems (PACS), radiology information systems (RIS), and electronic medical records (EMRs).
A center's software, including scheduling modules, needs to have easy-to-use and clear-cut worklists for staff. Studies show that 23% of radiology technologists feel that their workflow is inefficient, increasing burnout and job turnover rates. Robust yet straightforward software reduces work-related stress, is user friendly and visually intuitive, improves staff accuracy, and improves job performance. In addition, an imaging department can attract and keep skilled people with streamlined workflow protocols and cutting-edge software. Finally, software systems should provide assistance and information without affecting patient care, contributing to financial loss, and exasperating the end-user.
Another part of improving radiology efficiency requires keeping an eye on staff and radiologists' productivity. Analytical software can show turnaround times for reports, help develop better imaging protocols, identify bottlenecks, and improve patient care.
Everything in healthcare pertains to patient satisfaction and outcomes. Up-to-date, effective software can attract or repel them too. Therefore, monitoring patient interactions with IT systems in real time provides the valuable feedback needed to improve their experiences.
Billing software can help with current procedural terminology coding and flags information that may impact reimbursement. This type of software is efficient, saves money, and should be a mainstay in radiology departments. In addition, radiology software can help generate referrals by enabling referring physicians to have easy access to reports and standardized ordering formats.
Radiology software components
Regardless of why they are visiting an imaging center, people want to expedite their time, experience, and health results. So, accomplishing more, eliminating unnecessary redundancies, and minimizing stress to staff, radiologists, and patients have much to do with the cohesiveness of radiology software. Let's look at four radiology software components and how they work together to streamline proficiency.
A PACS is a complex archiving and storage software for radiology images. Archiving manages space for data that needs to be kept and recalled sometime in the future. The system functions well with RIS, a multitasking software system. In addition, PACS are generally compatible with hospital information systems (HIS) and EMRs. Nova PACS, developed by Novarad Imaging Informatics Solutions, has 99% uptime and loading reliability and offers web-based functionality that gives radiologists the freedom to work remotely.
A RIS is a software that manages images and data. This robust technology enables the scheduling of exams, reduces overlapping appointments, monitors the flow of patients and departments, produces analytics on patients and demographics, and assists with coding and billing. It works in concert with PACS, HIS, and EMRs. Nova RIS can automatically fax, text, or email reports to physicians and EMRs and send reminders to patients about upcoming appointments. In addition, this RIS has built-in modality worklists to accommodate various radiologists' reading preferences. Together, Nova RIS and NovaPACS provide information to CryptoChart. This software by Novarad gives patients secure access to their images and reports using QR codes that eliminate passwords, portals, and logins.
EMRs are combinations of patient demographics, health history, orders, doctor notes, diagnoses, and appointments. All this information optimizes patient care when shared with PACS and RIS.
Digital imaging is the process of changing radiation into an electrical charge of the same value between specialized radiology plates. The result is a digital radiograph that displays on a computer. The digital image undergoes technical processing and is available for viewing in a PACS within minutes. As a result, digital X-rays have significantly reduced the need for traditional films, darkrooms, and file rooms. Digital imaging also increases staff and radiologists' productivity, decreases technologist errors, reduces radiation dose to patients, and frees up funds needed for other things.
In conjunction with software, other things impact workflow, and departments have to consider variables that they can't control. Unpredictable events can happen in radiology and play a considerable part in improving radiology efficiency and patient outcomes. The right software partnered with streamlined processes helps imaging centers maintain high levels of efficiency that can guide a department through hectic days and increase business.
Here at Novarad, we believe that the key to a successful imaging center is to work smarter, not harder, to deliver the type of care and outcomes that patients desire.

To see how we can help improve your workflows, feel free to reach out to our workflow specialists today!
Sign up for our newsletter