How to Easily Improve Patient Care in the Radiology Department
Oct 5, 2021 Read Time: 3 min
by Novarad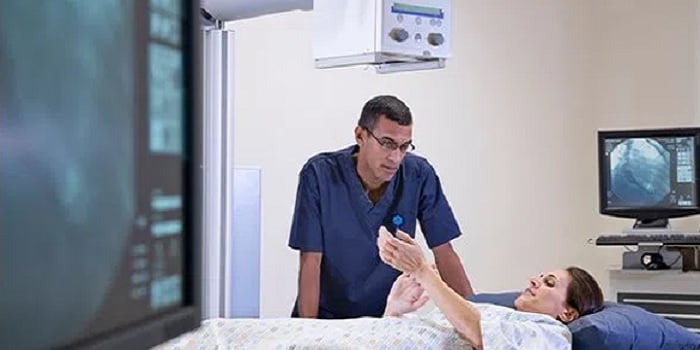 Is your radiology department providing patient-centered care? Nothing feels worse from a patient's perspective than having to go to radiology and waiting for what feels like forever to be seen, scanned, and get the results. Unfortunately, this scenario is all too common in hospitals around the country. Patients end up in "limbo" and in pain, feeling like their needs aren't being taken seriously.
The staff members in radiology departments can be experiencing their own challenges and feel like buckling under the stress of meeting patient expectations. Putting the right systems in place to optimize workflows can keep your team from experiencing burnout.
Patient care in radiology departments has become a serious pain point
A US National Hospital Ambulatory Medical Care Survey noted that radiology departments have the potential to be bottlenecks in any healthcare environment and can increase patients' length of stay in an ED by an average of one hour. Patients get tied up in registration or waiting for their scan, and the cycle of patient care becomes completely derailed as doctors move on to the next patient in crisis.
In many cases, a lack of communication increases patient anxiety and frustration. Simply setting expectations surrounding wait times upfront can help prevent patients from becoming annoyed. Subsequently, keeping patients updated periodically can help partially "reset the clock" on wait times.
Scheduling and registration can cause jam points in the process, both in hospital settings and clinical practices. Finding ways to streamline these processes and leverage open gaps in schedules can help facilitate speedier patient care and heightened satisfaction.
Improved patient experiences lead to a better perception of quality of care (QOC.) Reporting on QOC metrics can positively affect reimbursements in value-based incentive programs and improve end-of-year revenues.
Why communication around patient wait times is so important
According to the Radiological Society of North America, the top satisfaction criteria for patients revolve around time and communication. Patient care in radiology includes five key points to communicate to patients, the third of which is duration: the amount of time that the patient can expect to wait for a test or procedure.
Setting patient expectations for the wait time should be a routine part of the registration process. Try to under-promise and over-deliver for the best results. If the clock runs out and they are still waiting, be proactive in communicating why the wait is taking longer and seeing to their comfort. By committing to communication, you can create rapport with the patient and prevent or reduce their frustration.
Streamlining patient access and scheduling for better patient care in radiology
A patient-centered radiology quality process map recommended by the American Journal of Roentgenology for use by radiology providers notes that the scheduling and registration process is the gateway into radiology care for patients. Efficient scheduling should maximize patient access and minimize waiting times for examinations.
By making scheduling and registration processes run smoothly, you can:
Decrease patient wait times
Prevent missing information from causing delays
Ensure that patients arrive in your office prepared and confident, knowing their paperwork is in order
Increase departmental revenue
Encourage more positive patient reviews
Create a workplace others identify as a great place to work
The right technological tools can help you develop flows specific to the needs of your department or clinic. The result is more relaxed staff members, less harried providers, and happier patients—a recipe for success.
Improved quality of patient care in radiology increases revenues
Medicare radiology reimbursements for 2021 reflected steep cuts across the board and decreases of up to 10% for diagnostic radiology. One of the best ways to help minimize the impact of these cuts is to focus on improving quality in care (QIC) for maximized bonuses through the Quality Payment Program.
By addressing pain points in radiology departments and improving patient experiences, you can raise QIC scores and maximize your revenues under value-based programs. You can improve your metrics year over year for continued incentives and increased bonus opportunities.
You will increase the value for your facility by improving patient care, which will lead to other financial benefits, such as better user reviews, more referrals, staff members advocating for your practice being a great place to work, etc.
Easy ways to enhance patient care in radiology settings
Having suitable systems in place to optimize workflows can improve patient care in radiology and prevent staff overload and burnout. Consider adding the following solutions to your department's toolkit to help you achieve and maintain patient satisfaction goals.
Leveraging any or all of these systems can improve patient care in radiology settings, leading to higher patient satisfaction scores and lower staff turnover.
Here at Novarad, we believe that the key to a successful imaging center is to work smarter, not harder, to deliver the type of care and outcomes that patients desire.

To see how we can help improve your workflows, feel free to reach out to our workflow specialists today!
Related Insights
Sign up for our newsletter