Performance Improvement in Your Radiology Department
May 26, 2022 Read Time: 3 min
by Novarad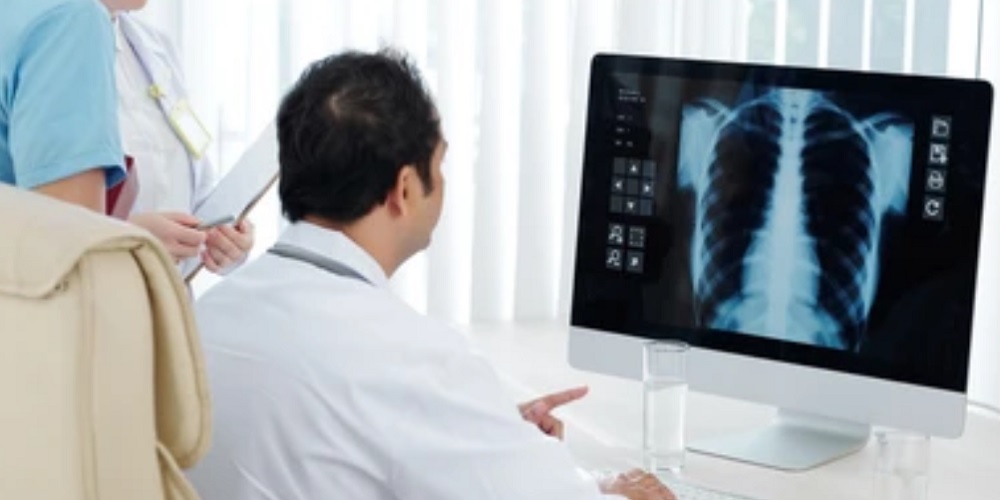 The radiology department is one of the most important parts of healthcare, providing detailed imaging, monitoring, and treatments for patients. Due to the interrelated nature of radiology within a hospital or clinic or through referring physicians, increasing the performance of a radiology department has a cascading effect throughout the entire healthcare organization and those affiliated (e.g., referring physicians).
Performance improvement in the radiology department can be broken down into several aspects:
More accurate imaging
Better adaptation for the COVID-19 pandemic
Uninterrupted access to patient data (e.g., reports, images, and other media)
Automated repetitive and time-consuming processes (e.g., voice dictation for reports, assigning staff workload)
Optimized patient scheduling and reminders
Ergonomics for workstations
Reduction of stress and burnout for radiology staff
Better ROI for platforms and processes (such as picture archiving and communication system [PACS])
In this article, we highlight which areas are best addressed for optimized performance improvement in radiology department workflows and environments.
More Accurate Imaging
The quality of imaging is directly correlated with better patient care. New technologies, such as artificial intelligence (AI), have been proven to substantially improve the accuracy of diagnoses from radiology images. 3D-imaging modalities are also becoming more commonplace in modern radiological imaging, creating a better assessment of a patient's images. With leading-edge imaging applications being available for radiologists, there is a significant reduction of human error, oversights, contraindications, and other negative outcomes when comparing images.
Better Adaptation for the COVID-19 Pandemic
The COVID-19 pandemic has created a new paradigm of healthcare that has led to the urgent need for adaptation to prevent transmission of the disease and facilitate a more efficient diagnosis.
To efficiently adapt to the new realities that COVID-19 presents, Novarad offers the free COVID AI Diagnostic Assistant. It enables clinicians to quickly identify COVID-19 patients so they can be effectively isolated and treated. Using sophisticated AI algorithms, the Diagnostic Assistant analyzes a chest CT scan to produce a highly accurate and sensitive report within seconds, including indispensable information on the extent of lung involvement.
Uninterrupted Access to Patient Data
Uptime is important to ensure unobstructed workflows in radiology and the other departments that depend on patient images (and for referring physicians). Failure to maintain networks from interruptions can be catastrophic in hospitals and clinics, creating a domino effect of delays, inconsistencies, and frustration for physicians.
Novarad offers an uptime of 99.99% with NovaPRO. This all-inclusive platform offers centralized storage that virtually eliminates all complications associated with accessing, storing, updating, and sharing images and information. Using redundant backups through cloud-based, on-site, and/or off-site server storage, NovaPRO is fully compliant with all modalities for full HL7 integration.
Automating Repetitive and Time-Consuming Processes
Radiological information systems (RIS) help automate and simplify typical processes that drain time away from critical tasks of patient care. A modern RIS uses automation to restore lost time, effort, and resources back to radiological personnel for a wide range of normally manual tasks, including:
Completed and distributed reports with templates
Automatic patient scheduling and reminders
Empowered patients due to self-scheduling options
Instant alerts for contraindications, unscheduled procedures, insurance pre-authorization, and STAT studies
Transcription tools, integrated dictation, and voice recognition for RIS-driven workflows
Automatic synchronization between the RIS, PACS, and modality and financial systems
To attain these functionalities and more, Novarad RIS enables your radiology department to optimize performance. Novarad's platform has been used in thousands of healthcare settings to ultimately reduce stress and burnout for staff, crucial factors in staff retention and mental health.
Ergonomics for Workstations
The ergonomics of radiology hardware is often overlooked when improving performance in radiology departments. Considering that radiologists and other physicians may examine hundreds of images daily, having comfortable equipment and workflows mitigates injuries and strain during their day.
For reference, the most common chronic injuries associated with radiology workflows include:
Arthritis of the neck when viewing images
Back injuries from uncomfortable seating postures
Repetitive stress injuries (such as carpal tunnel syndrome) from using a computer's mouse and keyboard
NovaPACS is an all-in-one solution that can mitigate injury for radiologists. Designed with such features as the Nova Radius™ Menu, radiologists can quickly access hundreds of functions with two mouse clicks. Novarad also offers a gaming mouse with multiple buttons to access various tools.
Better ROI for Platforms and Processes
In many ways, financial performance is as important for a thriving radiology department as the level of care that it can provide. Hospitals that incur excessive costs may have to reduce other areas of care or pass these costs on to patients, both of which are unfortunate outcomes that must be weighed in today's competitive healthcare environment.
Novarad's full suite of products enables hospitals to provide the best imaging at a cost-effective price point. Featuring a pay-as-you-use model that saves radiology departments on per-image costs, Novarad designed its systems to require less hardware than competitors for minimal maintenance costs. Furthermore, NovaPACS enables new revenue opportunities via virtual consultations to expand the scope and range of physicians providing care without geographical limitations.
Conclusion
Now that you have an understanding of the aspects related to performance improvement in radiology department workflows, partnering with Novarad is the clear choice to modernize how radiology functions in hospitals and clinics.
Novarad's solutions have been designed to achieve both clinical and fiscal excellence. They are robust enough to support larger hospitals and integrated delivery networks yet flexible and scalable enough to enable enterprise-level care in the smallest rural and critical care facilities.
Here at Novarad, we believe that the key to a successful imaging center is to work smarter, not harder, to deliver the type of care and outcomes that patients desire.

To see how we can help improve your workflows, feel free to reach out to our workflow specialists today!
Sign up for our newsletter