How a Radiology Workflow Solution Changes the Way You Work
Jul 14, 2022 Read Time: 3 min
by Novarad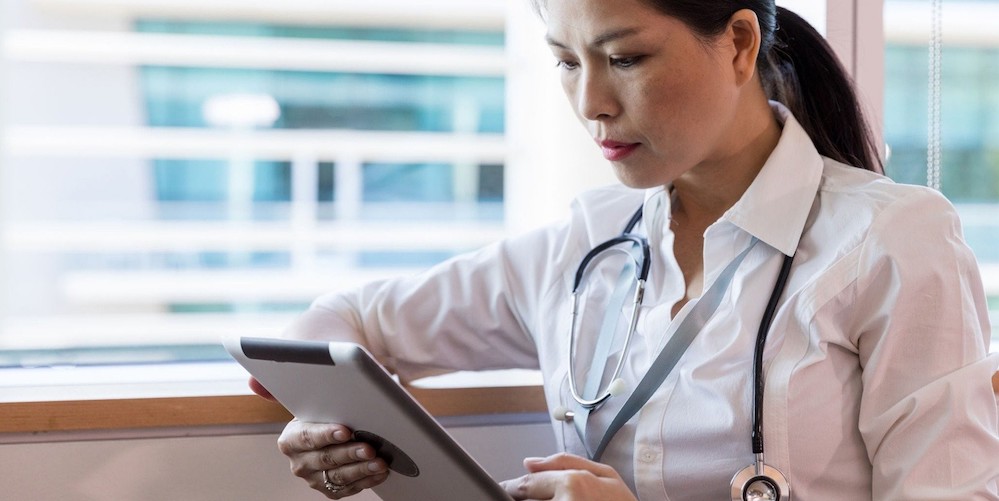 Workflow can be the key to unlocking a radiology business's potential or negatively impacting its efficiency. When it's right, a radiology workflow is a game-changer. But when it's not, it can be debilitating.
So, what can radiology directors do to improve their facilities' workflows and reap the benefits?
Radiology directors can focus on innovation to improve performance and increase staff happiness. With radiology solutions, imaging facilities can improve their efficiency via mobile and paperless workflows. They can also provide high-quality care through timely access to vital records.
Given the benefits of improved workflows, an imaging administrator needs to emphasize investing in suitable radiology solutions.
Why You Should Focus on Radiology Workflow Solutions to Improve Radiologists' Performance and Happiness
1. Achieve first-time-right images with workflow automation
With the increased demand for diagnostic imaging, there's a need to avert re-scans. These can put your imaging and reporting processes behind schedule, increase wait times, and increase staff overtime.
Given the implications of re-scans, achieving first-time-right imaging in your radiology department or clinic is vital to improving the quality of care. One way that you can ensure first-time-right imaging is through workflow automation. Working with a suitable radiology solution can help your team leverage an array of inbuilt image filtering capabilities. These help your imaging staff identify and manage artifacts in diagnostic images, producing accurate and high-quality images. The resulting benefits can help streamline imaging workflows, improving the productivity of your radiology practice.
Automating workflows with a solution like NovaPACs, for instance, helps your team achieve first-time-right images. By leveraging functions like MPR, MIP, 3D, image fusion, and virtual colonography built into the PAC viewer, your imaging team can produce high-quality diagnostic images. With this solution, your imaging staff can provide images that incorporate computed tomographic angiography data sets, display nonaxial two-dimensional images, and depict a variety of polyps and other lesions. These can help in developing highly accurate diagnostic reports, cutting patient wait times and preventing staff overtime. Effectively, these can translate to increased patient and staff satisfaction and improved bottom lines.
2. Improve digital engagement and eliminate no-shows with radiology workflow solutions
Information technology has had a monumental impact on radiology practices. Moreover, it has significantly affected administrators' digital abilities to prevent no-shows. This has become possible through enhanced digital engagement capabilities—before and after patient appointments.
Working with radiology workflow technologies enables imaging facilities to leverage different digital engagement tools, helping prevent no-shows and their associated effects. Radiology workflow solutions can also be designed to deliver exceptional patient experiences via digital engagement features. These may include easy-to-fill-out e-forms, self-scheduling platforms, and customizable patient appointment reminders.
Whether it's before or after diagnostic imaging, your imaging staff can communicate seamlessly with patients. They can clarify the importance of each step and have patients attend important imaging sessions at their most opportune time. With studies placing the annual costs of no-shows at $1 million in a typical medical facility, reduced no-shows achieved via quality digital engagement can help improve your imaging department's profitability.
By working with a radiology workflow solution that helps manage patient journeys with improved digital engagement, your radiology department or imaging clinic can improve vital processes between scheduling and report distribution. Nova RIS in particular can provide your staff with text reminders for appointments, self-scheduling, e-forms, etc. These features help prevent no-shows associated with poor physician-patient relationships and with patient referral leakage due to a lack of confidence among your referring physicians. Eventually, these benefits can help improve your facility's quality of care and boost your staff's happiness.
3. Offer deeper insights with interactive multimedia
With the increased demand for radiology in healthcare, text-only reports are becoming obsolete because they can't provide the insight and value that doctors need. Moreover, such reports require physicians to access prior diagnostic reports to manually compare patient images. This can adversely affect the productivity and efficiency of a radiology practice.
However, with interactive multimedia, your staff can help physicians make accurate treatment plans for patients. This is made possible by the ability to conduct side-by-side comparisons, review information availed by charts, and assess quantitative data from post-processing activities. (Note that quantitative data may come from post-processing activities like vessel analysis.) Other activities made possible by interactive multimedia include modality measurements. Cumulatively, deep insights gathered through activities supported by interactive media help improve your facility's reliability. In turn, this improves your facility's client retention and bottom line.
Investing in a radiology workflow solution that supports interactive multimedia will be a game-changer. The insights derived from diagnostic images will help bring together multi-specialty physicians for greater collaboration to make more accurate treatment plans.
Suppose that your facility integrates an enterprise imaging solution with interactive multimedia capabilities. With this radiology workflow solution, your team can leverage a variety of storyboards. Thanks to these imaging platforms, your staff will have a complete view of a patient's condition via X-rays, ultrasounds, CT scans, and lab reports. With such a highly interactive solution, your staff can also compile findings from different episodes of care, improving the collaboration of diagnostic and monitoring trends. These findings can help in making high-quality reports and enhancing your imaging workflows. Eventually, this helps improve your department's performance, eliminate burnout, and drive up patient and staff satisfaction.
Here at Novarad, we believe that the key to a successful imaging center is to work smarter, not harder, to deliver the type of care and outcomes that patients desire.

To see how we can help improve your workflows, feel free to reach out to our workflow specialists today!
Related Insights
Sign up for our newsletter