3 Benefits of Healthcare Workflow Automation: Doing More with Less
Jul 21, 2022 Read Time: 3 min
by Novarad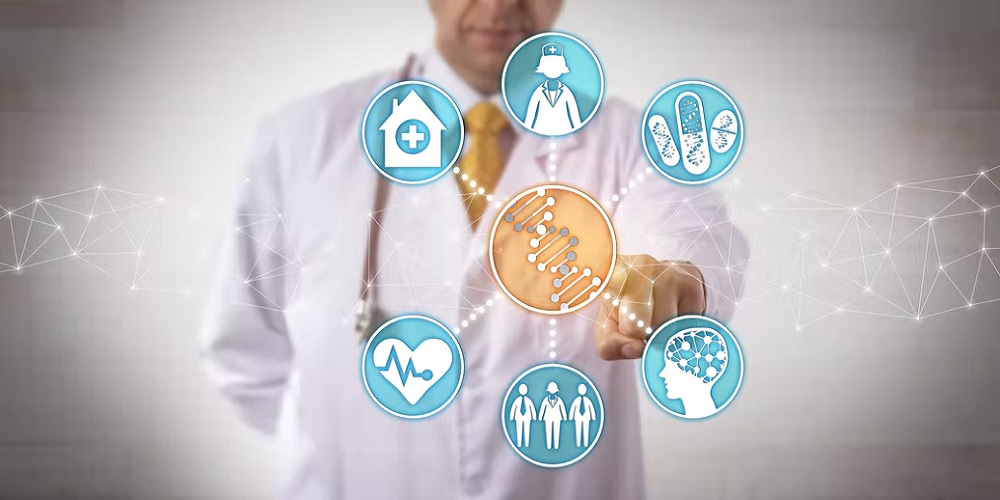 Healthcare workflow automation is the process of adopting sets of rule-based logic to initiate and run repetitive and predictable healthcare tasks without human intervention. Once the rules and logic are established, automated healthcare workflows simplify the process of setting up reminders, sending emails, scheduling tasks, etc. All these tasks can happen without healthcare teams touching a single button.
By leveraging workflow automation to simplify vital processes, your practice can diminish errors, save time and money, and boost your staff's productivity. To illustrate, the 2020 Council for Affordable Quality Healthcare's Index report showed that the American healthcare industry can cut an additional $16.3 billion of its spending by automating transactions. That's after the industry cut more than $122 billion of its annual costs by automating different transactions.
Given the importance of workflow automation in today's healthcare, understanding its key benefits and how you can do more with less in radiology practices can be a game-changer.
How Healthcare Workflow Automation Can Help You Do More with Less
1. Minimize errors with automated processes
Automating healthcare workflows plays a key role in minimizing the human element in diagnostic imaging practices. By automating cumbersome processes, healthcare workflow automation helps reduce errors among imaging staff.
Automated healthcare workflows also minimize the inputs needed by radiologists to import vital clinical data into a patient's report, retrieve medical records, and convey critical findings to a referring physician. This helps minimize radiologists' frustrations and limit the interruption of life-saving clinical work. With practitioners focusing on vital clinical operations, errors are reduced.
To put the effect of human errors into context, a recent study indicated that preventable safety events occurred among 115 of every 1,000 hospitalizations, increasing costs of care by $8,000 per hospital admission. The research also showed that close to 62,000 medical errors introduced additional healthcare insurance claims. These exceeded $617 million annually.
Given the high costs of human errors in healthcare, your radiology practice can tap into the benefits of novel healthcare automation solutions. These will help minimize errors and the associated costs.
By leveraging the automation features of Novarad's NovaPACS, for example, your practitioners can automatically pre-fetch one or more exams twenty-four hours before a scheduled procedure. Based on your facility's schedule—as specified in your radiology information system (RIS)—your staff can choose the maximum number of priors they need without bogging down your enterprise's network. Working with preferences like related procedures, study descriptions, and similar modalities, your staff can avoid errors associated with the poor selection of priors.
NovaPACS also delivers greater detail when having to call the patient back for additional imaging. Notably, Novarad enables 3D capabilities to launch natively within the PACS. This helps in viewing and analyzing images, thereby improving the quality of reports in a cost-effective and efficient manner. This adds value, hence improving treatment outcomes in your facility.
2. Reduce no-shows with smart scheduling
Today's radiology facilities face two unique challenges: cost-cutting pressures and increased demand for diagnostic images. These have made it imperative for radiology practices to maximize their efficiency and effectiveness. Despite such facilities' efforts, some events are inevitable, and their impacts are higher healthcare costs and the underutilization of vital resources. Examples of such events are patient no-shows.
No-shows cause a mismatch between expected demand and the supply of diagnostic imaging services in any facility. They can have a significant impact on your enterprise's performance and service quality and have adverse effects on your patients' physical health and your facility's financial health.
You can reduce their occurrence via healthcare workflow automation. With this, your facility leverages smart scheduling capabilities to eliminate the adverse effects of patient no-shows.
Let's take Nova RIS as an example. By working with its healthcare workflow automation tool, your facility can leverage self-scheduling features that enable patients to request procedures at their most suitable time or schedule. The solution also supports configurable appointment reminders to ensure that patients have the necessary information before their procedure date.
With convenient scheduling and tailored reminders, patients cannot forget scheduled appointments or fail to arrive on time. This helps your facility avoid options like charging for missed visits, which yields mixed results. Ultimately, with fewer no-shows, your facility can improve its efficiency and productivity.
3. Cut costs with improved productivity
Soaring healthcare costs continue to be a major concern. With patients experiencing ever-increasing out-of-pocket costs and insurance premiums, key stakeholders have a reason to worry due to the unintended effects of high healthcare costs.
While rising costs continue affecting radiology care, your facility can increase its productivity and cut diagnostic imaging costs. You can achieve this by investing in a suitable healthcare workflow automation solution.
One study pointed out that the potential efficiency savings in both outpatient and inpatient—resulting from healthcare technology—could exceed $77 billion per year. That's within the United States alone.
That said, adopting a healthcare workflow automation solution like CryptoChart may help unlock significant cost-cutting benefits. Leveraging Novarad's Object Vault cloud system, the solution enables the sharing of client images via an encrypted and shareable QR code. This helps save time and the resources needed to burn images on CDs. With the easy-to-use image-sharing solution, your facility avoids costs associated with training staff on how to use the technology. Effectively, the adoption of CryptoChart can help maximize the benefits of improved efficiency in your facility. These mobile solutions are transforming the delivery of medicine and elevating patient care.
Here at Novarad, we believe that the key to a successful imaging center is to work smarter, not harder, to deliver the type of care and outcomes that patients desire.

To see how we can help improve your workflows, feel free to reach out to our workflow specialists today!
Related Insights
Sign up for our newsletter