Tips for Reducing Patient Wait Times in Radiology
Sep 28, 2021 Read Time: 3 min
by Novarad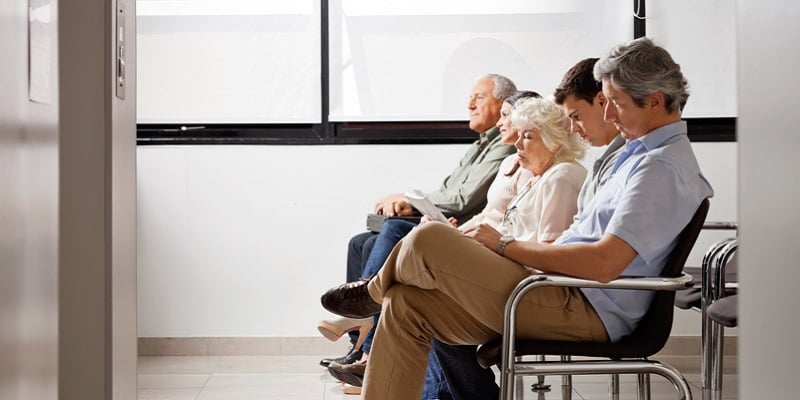 Regardless of the business, the secret to success is having happy and satisfied customers. One of the biggest pain points for radiology customers (aka patients) is the wait time, whether it's spent in a waiting room, exam room, or post-exam area. Many patients are anxious and worried about their health, and having to sit and wait for a radiologist can seem like a massive hindrance to their recovery.
Patient satisfaction and perception of the quality of their medical care can be directly tied to non-medical aspects of their visit, such as ease of registration, complexity of paperwork, and wait times. This can, in turn, affect patient satisfaction scores, which directly impact reimbursement rates in incentive-based systems.
Finding ways to mitigate these types of non-medical portions of a patient's health care experience can be critical to maintaining practice revenues and hitting value of care goals.
Why reducing patient waiting time in radiology is important
Waiting time is directly correlated with patient satisfaction and not just specific, measurable time periods spent anxiously awaiting care or results. Perceived wait times affect patient satisfaction as much as actual wait times, according to a study presented in the Journal of the American College of Radiology (JACR): "Patients undergoing outpatient MR examinations in an environment designed to optimize patient experience underestimated wait times at all points during their encounters. Shorter perceived and actual wait times were both correlated with higher satisfaction scores."
By logical thought processes, satisfaction scores should then be capable of improvement by the simple method of finding ways to reduce wait times for patients. However, this can be easier said than done.
Challenges to reducing patient wait times in radiology
Reducing patient wait times in radiology can be more difficult than it seems. In order for patients to be seen quickly, radiologists must be available. Unfortunately, the US is currently suffering from radiologist shortages. According to Radiology Business, "The US shortage of radiologists and other physician specialists could climb to nearly 42,000 by 2033."
Overuse of imaging is another reason for patient wait times. According to the American Journal of Medicine, "The cost of imaging exceeds that of laboratory testing. In a MedPAC (Medicare Payment Advisory Commission, Washington, DC) study of Centers for Medicare and Medicaid Services spending in 2012, laboratory tests accounted for 9% of services and 4% of payments. In contrast, imaging accounted for 11% of services and 17% of payments. However, 30% of laboratory tests and 20% to 50% of 'high tech' radiologic imaging ordered by health care providers may not be of value to the patient."
Four tips for reducing patient wait time in radiology
Despite radiologist shortages, there are ways that the average radiology department or practice can shorten patient wait times and improve patient satisfaction. According to JACR, "As health care shifts toward patient-centered care, wait times have received increasing scrutiny as an important metric for patient satisfaction. Long queues form when radiology practices inefficiently service their customers, leading to customer dissatisfaction and a lower perception of value."
JACR also describes a four-step framework for radiology practices to resolve problematic queues.
1. Analyze factors contributing to queue formation
Reviewing intake records can reveal where the most referrals are coming from and highlight unnecessary referrals within EMR systems. It can also note which patient populations take longer in the exam room, whether due to a lack of mobility or the complexity of the imaging needed. This information can be used to address referring physicians' processes and adapt schedules to work around patients who take longer in radiology.
2. Improve processes to reduce service times
Implementing tools and systems to streamline workflows and accelerate patient intake processes can significantly reduce patient wait times in radiology. An investment in automated scheduling and appointment systems can relieve staff of additional tasks at the front desk, enabling them to focus on patient comfort and care.
3. Reduce variability
If all physicians and specialists can integrate with the same image storing and sharing systems, communication can move more swiftly, and second opinions may be sought with alacrity. Results can be handed off to referrers in real time and even shared with patients for quick gratification.
4. Address the psychology of queues
Designing a communication system that facilitates the delivery of information to patients during and about their wait times is crucial. Make sure your staff is regularly touching base with waiting patients, and strive to move patients from the reception area to an exam area as swiftly as possible.
How Novarad can help reduce patient waiting time in radiology
Three key implementations can help you shorten your patient wait times:
Nova RIS improves patient communications and scheduling for shorter wait times.
NovaPACS delivers a managed radiology workstation solution that maximizes a radiologist's reading time speed.
CryptoChart yields reduced reimaging for increased patient satisfaction and provides patients with almost instant access to their images via their mobile device.
Reducing patient wait times in radiology increases patient satisfaction scores, which can directly and positively affect revenues. Technology is essential to streamlining radiology workflows, making it possible to provide more thorough and rapid patient care.
Here at Novarad, we believe that the key to a successful imaging center is to work smarter, not harder, to deliver the type of care and outcomes that patients desire.

To see how we can help improve your workflows, feel free to reach out to our workflow specialists today!
Sign up for our newsletter