The Deep Impact of Having the Right Radiology Scheduling Software
Aug 12, 2021 Read Time: 3 min
by Novarad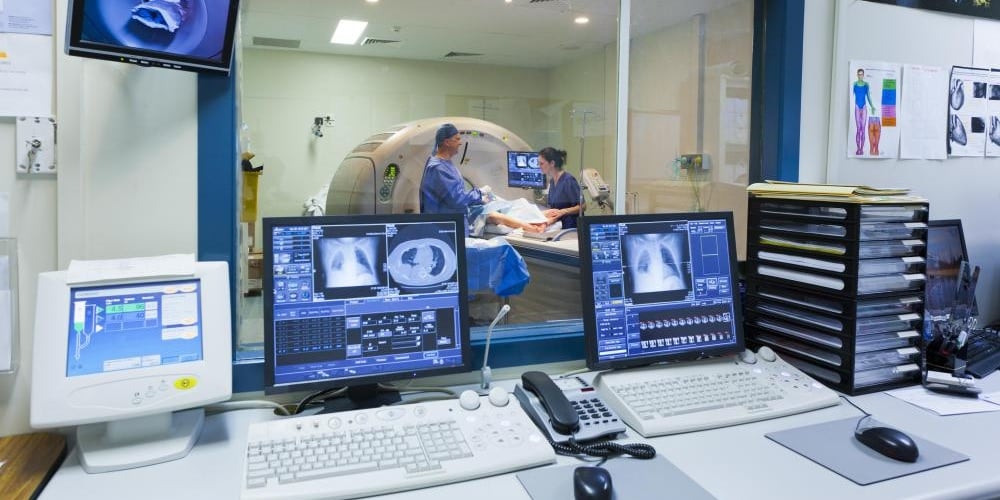 On average, a diverse medical imaging department schedules up to and over 150 patients per day and performs various exams and procedures. Without robust, modern imaging scheduling software, providers can lose qualified staff, patients, referrals, and money. Radiology scheduling software performs the work of hundreds of invisible high-tech minds. This complex technology streamlines data input and output; increases patient volumes, referrals, and income; and merges key radiology system giants like PACS, RIS, and EMRs, making it an investment that pays for itself.
The benefits and solutions of choosing a radiology scheduling software, such as Novarad's Nova RIS, are numerous and vary between developers' capabilities and end-users' needs. Here are a few things to consider when looking for scheduling software:
Links all facets of radiology, financial records, patients, and doctors
Communicates with other health systems using HL7
Maximizes the productivity of hires and physicians
Minimizes errors, information loss
Improves patient interaction by giving patients access to staff, medical records, reports, and online scheduling
Grants access to shared health knowledge
Leads to financial gain via referrals by other physicians
Gives the end-user a positive experience with simplified, diverse, and user-friendly scheduling interfaces
Increases revenue with faster and more accurate billing
Reduces errors in billing and coding by flagging problems and provides corrective options (errors could mean misdiagnosis or unnecessary or incorrect treatment that cause delays and lost revenue)
Grants ability to access information almost anywhere and by mobile devices
Allows for unexpected events that impact a hectic radiology workflow, such as emergencies, walk-ins, and add-ons
Reduces user stress
Provides analytical and financial reports
Finds glitches that may harm workflow
Has unique password entry, quality assurance, quality control, and updates that reduce loss of files and secure classified and proprietary information
Brings everyone together in one cyber-place for the benefit of the patient via telehealth and virtual events
Attracts and retains physicians and staff (adaptive and progressive leading-edge technology is a great recruiting aide for finding skilled doctors and software developers)
A patient's experience is affected by their ability to access their health records, schedule appointments, and find needed services within their insurance contracts. Radiology scheduling software decreases patient stress and the anxiety of waiting for reports, completing forms, or getting someone on the phone. The 21st Century Cures Act has tasked software companies with the burden of speeding up the development of medical products that impact the totality of care and make it possible for patients to have a clear path to their medical records in a language that they understand. A good patient experience means good reviews, return visits, word-of-mouth referrals, and increased revenue for providers.
Scheduling of patients influences reimbursement/funding for radiology. A patient's satisfaction or lack thereof is the steering mechanism for facility rankings and reimbursement. In a hospital setting, patients evaluate their care through Hospital Consumer Assessment of Health Care Providers and Systems, also known as HCAHPS. Personnel, doctors, facilities, policies, and medical software get critiqued, and high scores mean more financial gain, particularly Medicare reimbursement. When patients can use a scheduling module with ease and experience few systematic problems, they are more likely to give a positive review and visit the organization for medical services. These ratings are paramount for medical X-ray facilities to stay afloat. With so many sources to choose from, scheduling determines where people go for care based on availability, simplicity, and flexibility, which can improve reimbursement.
Technology is under pressure to meet the supply and demand of consumers and changing FDA regulations. As a result, savvy radiology managers and radiologists are carefully vetting the increasing pool of radiology software developers. Through advanced medical software growth by companies such as Novarad Enterprise Healthcare Solutions, future technologies will consider that the patient's perspective is the landscape of healthcare IT. Novarad has a plethora of products and solutions that meet the needs of imaging centers, hospitals, clinics, and clinicians.
As populations and economies evolve, new and creative ways to extend the boundaries of healthcare information systems have taken center stage. Within the infrastructure of medicine, radiology is a vital imaging process that identifies and treats certain illnesses. The impact of scheduling software in diagnostic and interventional radiology has everything to do with maximizing efficiency and time management in the best way possible and provides significant benefits for patients and those who provide care.
Here at Novarad, we believe that the key to a successful imaging center is to work smarter, not harder, to deliver the type of care and outcomes that patients desire.
To see how we can help improve your workflows, feel free to reach out to our workflow specialists today!
Sign up for our newsletter